After many hull designs, the Moore 38 has become the proof of concept boat that is the cornerstone of our companies current hull design lineup. Based on this established Moore 38 concept, Moore Boat has been granted a design patent on our hull form (US D651,551S). The Moore 38 is a high speed, shallow draft vessel designed/outfitted to execute inland waterway and coastal maritime missions. It is a very capable boat yielding a solid, stable platform configurable for multiple applications including, but not limited to:
Interdiction
Anti-Piracy
Critical Infrastructure Waterway Protection
Vessel Escort
Autonomous Vessel
Search and Rescue
Surveillance
Force Insertion/Extraction
National Defense
Fire and Rescue
Unmanned Systems Launch/Recovery Platform
Recreational
A low center of gravity, and desire to keep occupants as low and in the boat as possible delivers the safest design for a boat that can traverse extreme shallow waters. The Moore 38 is a rapid response vessel topping out in excess of 45 knots. This speed with the ability to operate outside of traditional channels yields the ultimate in rapid response. The Moore 38 has been configured with a central helm pilot house design allowing for excellent operational awareness while affording occupants protection from the elements. As with all Moore Boat offerings, customization is our specialty. Contact us to discuss configuration options that will yield the most mission specific vessel available.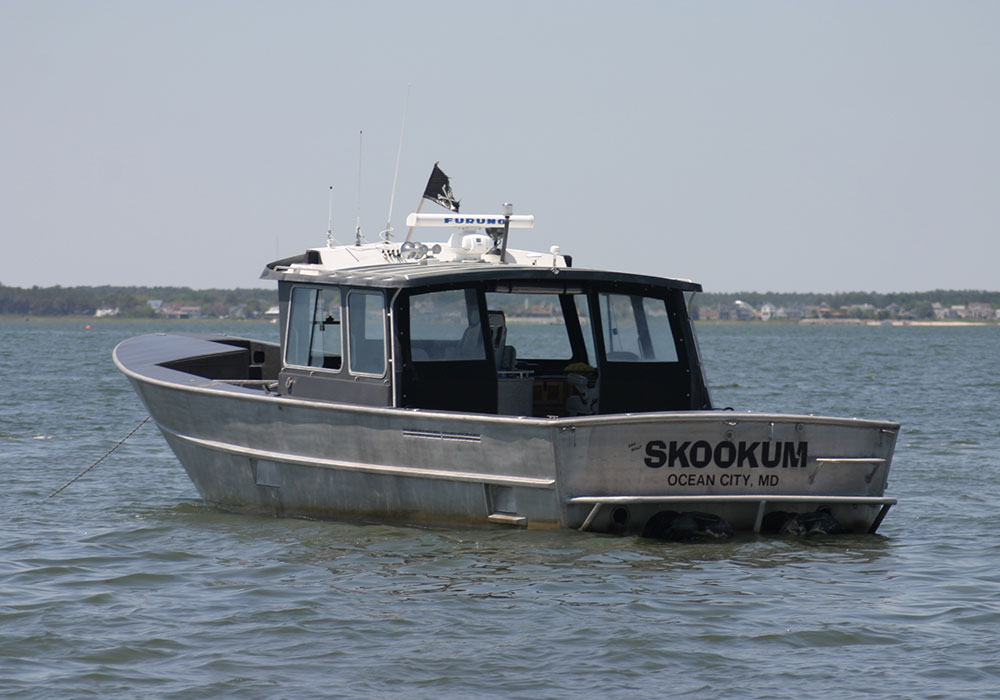 Specifications
Components & Specifications
Length: 38'
Beam: 12'
Draft (on plane): 6"
Draft (static): 17"
Fuel Capacity: 300 Gallons
Propulsion
Engine: Twin QSB 6.7 Cummins 550HP Jets: Twin Hamilton 274
Jets: Twin Hamilton 274
Performance
Max Speed: 50 MPH
Standard Equipment
12V Accessory Plug (2)
12V Electric Distribution Panel
300 Gallon Baffled Under Deck Aluminum Plate Fuel Tank (Removable)
316 Stainless Fasteners
3M Safety Walk Deck Covering
5086 .250'" Bottom, .188" Sidewall & Deck
5086 H116 Keel Integrated Bow Eye & Welded Stern Eyes
Aluminum Battery Box Supports
Aluminum Welded Construction
Backlit & Water Resistant 12V Switch Panels
Bare Hull Finish
Battery Switches
Bilge Pumps w/ Auto & Manual Switches
Bow Anchor Locker w/ Hatch & Southco Compression Latch
Camber Deck w/ Integrated Water Deck Drain
Centralized Helm Position For Optimal Situational Awareness
10" Welded Aluminum Cleats (8)
Cockpit: Self-Bailing
Construction: Military Grade, Fully Welded 5086 Aluminum H116
Custom Aluminum Bilge Through Hulls
Custom Electric Aluminum Trim Tabs w/ Digital Indicators
Displacement Bow Wrap Optimized For Crash Stop Buoyancy
Electronic Actuated Motor Box Hatch
Electronics Configured Overhead Of Operator
Forward Storage Box w/ Latched Access Doors
Full Aluminum Rub Rail w/ Additional Full Interior Cockpit Pipe
Full Width Swim Platform
General Safety Labels
Gunwale Safety Grab/Handrails
Hydraulic Steering Helm Pump
Integrated Fire Extinguisher Storage Holders (X2)
LED Navigation Lights
Lower Port & STBD Aluminum Rub Strakes Integrated Into Swim Platform
Magnetic Compass
Mass Calculated Anode Placement
Minimized Dissimular Metal Construction
Operator & Equipment Manual(s)
Parker/Racor Fuel Filter(s)
Patented Moore Boat Design Shallow Draft Aluminum Hull
Pilot House Drawers w/ Compression Latches (X3)
Screw Down Inspection Hatches
Stainless Destroyer Style Steering Wheel
Twin Marine Batteries
Welded Aluminum HIN Placard
Welded Skegs & Doubler Plate On Bottom Hull Plate
Wipers & Washer For Windshield Centerline & Port
Marine Grade Wiring (Tinned)